Hopefully, with all of the snow we are supposed to get this weekend (5-10 inches, so vague aren't they?!) it will give me time to revamp my blog. I have been tired of my banner for a while now, just no time to change it. I also need to remove some links and add some different ones. Maybe change up my background too. I need FRESH!

This is also a reason I need something fresh! I am so done with winter! This is a pretty cool picture though, I have to admit. I took it with my Macro lens.




*******************************************
A friend of mine is got some bad news recently and I wanted to send her a card to let her know I am thinking of her. I thought the Queen Kat Designs 'Huggy Monster' was perfect for what I wanted. Plus, I had to dig into my Gretel paper I got awhile back.


STAMPS-

Huggy Monster (QKD), Need a hug? (Inkadinkado)

PAPER-

Cosmo Cricket 'Gretel'

INK-

Stazon jet black, Colorbo Chestnut Roan

OTHER-

Nestabilities dies, Prismacolors and OMS, Copic gray marker, ribbon, brad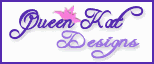 Check this out! The code in this blinkie will give you 10% off your order at Queen Kat Designs!
http://www.katstamps.com
If you add this blinkie to your blog (make sure it links to www.katstamps.com, if you need any help doing so, just ask me!) and then leave a comment on this post letting me know you did, you will be entered into a drawing for a prize given on April 1st!
I can't tell you what the prize is, but I know you won't be disappointed! AND, the more people who get entered into the contest, the bigger the prize will get!
So........SCREAM IT! Let everyone know how much QKD stamps rock and have a chance of winning at the same time!!!
*************************************
I hope everyone has a good day!! Stay warm and make a great creation!